Timing is everything. Today marks the first day of Spring and wildflowers are popping up all over Southern California! Here is a guide for you to visit some wildflowers within a short drive from Los Angeles, as well as places with wildflower spottings from previous years to keep an eye on.
*this post was first written in 2019 and has been partially updated*
*Reminder: the wilderness is a fragile space so please don't forget to practice Leave No Trace. Stay on designated trails (there are rattlesnakes in some areas), do not stomp on flowers, and do not pick them. Explore the trails, take your photos, but don't do whatever it takes to "get the shot" for the gram… let's leave nature in its pretty and natural condition for everyone to enjoy.

& my personal pet peeve… don't be THAT person on the trail blasting their music for everyone to hear

---
Best Hikes to See Wildflowers in SoCal (by a local)
Griffith Park
Visit date: 2.27.19
Status: full bloom when I went
Trail: Riverside Trail
Time: 15-20 mins hike up to reach wildflowers
Distance: 1 mi
You can also enter from the Vermont Canyon Tennis Court which I did back in March 2017. The trail is only slightly shorter and the parking lot is small.
There is only a small patch of an abundance of wildflowers in this section of the Griffith Park (that I know of). You'll see it as you're approaching the spot and there's a small trail off to the right around the one-mile marker to get here. It's a beautiful detour trail here with a skyline view of Downtown Los Angeles… there's a well-defined trail so please respect the park and stay on it!
---
Earn $30 toward your next purchase when you become a lifelong REI Co op member
Chino Hills State Park
Visit date: 3.17.19 and April 2022
Status: full bloom when I went
Trail: (Upper) Bane Ridge Trail
Time: 10-15 mins hike up to reach wildflowers
There are wildflowers spread throughout the park and multiple entrances, but when I asked the ranger at the kiosk, she said I had picked the best entrance for wildflower viewings.

I entered the park from Soquel Canyon off the 71 hwy. There's a $10 vehicle entrance fee (used to be $5) or you can park on the street below and walk up, but it is an uphill the whole way to the park entrance… and then the 2 miles to the trailhead is very hilly. I went on a very hot day (80 deg) so the $5 was worth it and there was plenty of parking inside; it was actually much more packed outside than inside the park for a Sunday.

From the parking lot trailhead, the hike starts uphill for about 10 mins and once you reach the top, you're at the peak area of the wildflowers on this trail. If you look on your map, you should see several other trailheads to connect to this spot. I got very lucky and caught a painted lady butterfly in the second shot below (:
---
Baldwin Hills Scenic Overlook
Visit date: 2.26.19
Status: blooming sectionally
Area: spotted near the flat dirt area by the Baldwin Hills sign off Hetzler Rd, but it is probably popping up all over the area by now
Time: 10-15 mins hike up to reach wildflowers
While you're here… get in a good workout and hike up those steps! 😉
---
Kenneth Hahn State Park
Visit date: 4.25.20
Status: typically blooms mid-April
Area: Southeast section of the park
Time: depends where you enter but less than an hour
---
Visit date: 4.6.23
Status: blooming
Trail: Weir Canyon Trail
Time: 2 hrs
---
Other areas with wildflowers (which I've visited in the past or have yet to witness for myself)
Walker Canyon in Lake Elsinore
status: currently in full bloom & mayhem *closed for 2023*
I haven't been since I hear it's crazy busy and I like to avoid "Disneyland-size crowds". Parking is extremely limited and the city has implemented a shuttle system. The area was closed down temporarily last weekend due to a lack of resources, but they're open again for now.
---
Antelope Valley California Poppy Reserve
This state park is known for poppies! There's an entrance fee and you can find current conditions on their site here.

I went during California's last super bloom in 2017 and this was as bad as Walker Canyon seems to be this year. Traffic and parking were so horrendous that I didn't even make it in the natural reserve boundaries after a long wait in traffic outside the reserve. The poppies were in full bloom outside the park and even the parking there was (for lack of a better term) a sh*t show. We planned to just leave, but we got lucky with a parking spot and were able to wander around the valley outside. There aren't many trails outside the park though… so careful with your steps.
Photos from March 2017 below

---
Diamond Valley Lake
This has been a popular area to see wildflowers for the 2023 season. It's a very short hike starting from the marina and you do have to pay for parking and are not allowed to walk off trail.
---
Carrizo Plain National Monument
In 2017, this was the place to be! We drove on a sketchy dirt road that would be handled a lot better on an AWD or high-clearance road… but we made it in my friend's luxury sedan (totally not built for outdoor exploring).

The hills here were painted in yellow, orange, and purple… what a variety! I have no clue what these flowers are, and we didn't pick any specific trails, just wandered aimlessly…

Looks like they currently have blooms also, but not as full as two years ago…
---
Joshua Tree National Park
I came here at the beginning of the last super bloom in early March 2017… right after the wildflowers just started popping up. It was dispersed just north of the Cottonwood Visitor Center but I believe the park is getting flower blooms right now too!
---
Anza Borrego State Park
I haven't been here during any blooms but it looks like it's in full bloom now! I don't know where, but if you find out and get an epic shot, help me fill out this section 🙂
---
Death Valley
In 2016, they had a rare but major super bloom, but the park isn't expecting this again this year because although the park got a lot of rain, it came later in the season which doesn't produce the same effect – you can read more about it on their website here.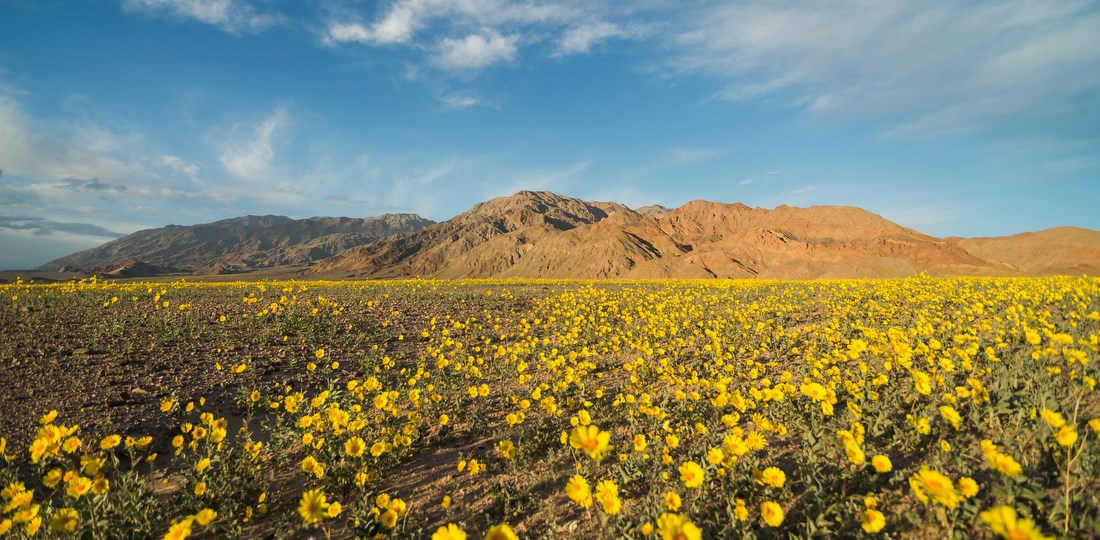 Alpine wildflowers tend to bloom in the summer while lower elevation wildflowers bloom in the Spring so if you're unsure where else nearby you in SoCal has wildflowers blooming right now, aim for the hills, not the mountains!

p.s. no wildflowers were harmed in the making of these photos